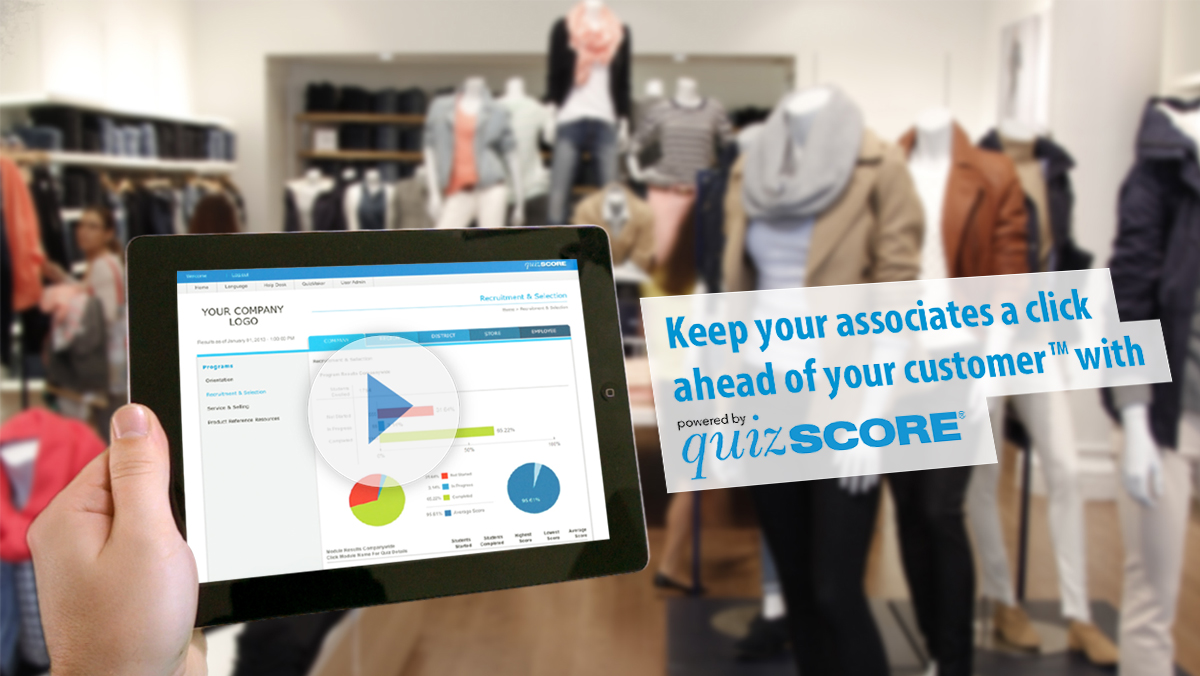 The power of QuizScore…

media
Content gets delivered system-wide, without streaming – including HD quality video.It all lives in one place, the easy-to-update online command center at QuizScore.com. And it immerses everyone in your organization.
MEASUREMENT
Who is engaged? Who is up-to-date? What's working, what's not? Does someone need extra development? Real-time results (viewable through the online dashboard) make all of these answers clear.
PERFORMANCE
Correlate, update, track, improve—succeed! Based on metrics, you can clearly see what's happening within your company, regions, districts, stores and individual, so you can drive performance.
QuizScore; a patented technology platform that drives
performance and execution of company
strategies—where it counts—with customers.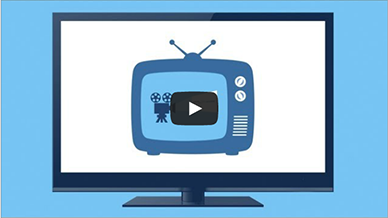 90% Of Users Say That Seeing A Video About A Product Is Helpful In The Decision Process (source: digitalsherpa)
Built for the way companies communicate now, QuizScore combines a LMS plus a CMS with patented technology to deliver HD quality video with no streaming, globally. Designed specifically to engage associates, empower managers, and drive global performance, QuizScore provides bite-sized learning and communication, real-time measurement, and big-picture results. Did we mention it's easy to update, works on any device, and delivers video without streaming? This is QuizScore, the solution you have been searching for.
Because you understand the power of media, and we know how to deliver it.

You understand the power of media. You know it's not a trend or fad, but rather the core of how you show the beauty of your products, envision your customer engagements and send internal messages… it's how you move your organization forward. You also know that technology is changing rapidly, and it influences every aspect of your business.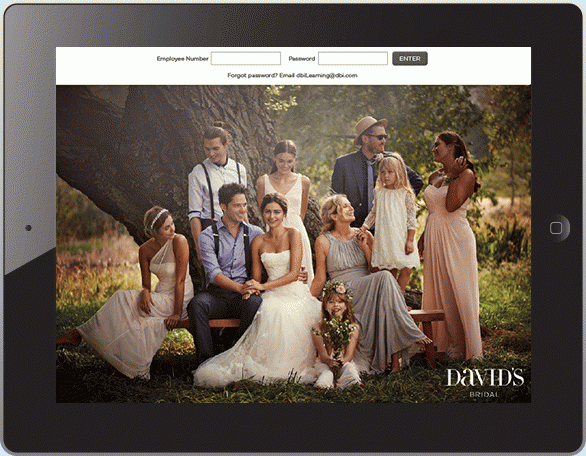 Our patented technology has no streaming. Make the power of today's media work for you. Let us show you how with a demo.
QuizScore is for your entire company.
QuizScore embraces everyone in your organization. All departments have access to a platform that delivers their communication to the associates.
Corporate needs:

Employees to receive information when its relevant to impact business
Real time data that gives visibility into whats working and what's not.
Metrics to ensure that participation impacts KPI's.
Global deployment, for maintaining and tracking communications.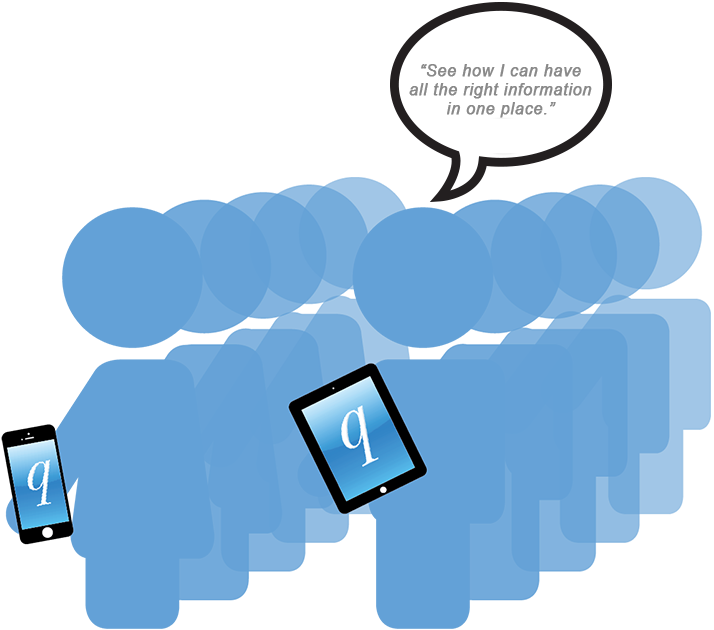 Associates are the front-line of your business. Every company we've met wants to communicate with and train associates better, faster and easier.

No matter your industry, QuizScore is all about your customer.

QuizScore helps you maximize your customers positive experience by giving your front line, your employees, the tools and training they need. With QuizScore, you can ensure that your associates, around the country and around the globe, are providing a consistent positive experience.

Through engaging communication, everyone in your company becomes unified towards the same goals: amazing customer service and stronger bottom lines.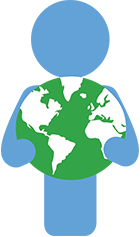 More environmentally-friendly.
We need to protect this globe by minimizing the impact on the environment. With QuizScore, you are able to eliminate any need for paper-based tools and never have a negative environmental impact because of version control or shipping boxes.
QuizScore drives performance.
Traditional learning management systems are often compliance-driven, defensive tools that are built for HR functions. Those functions are critical, but they cannot drive KPIs. QuizScore is a performance-driving platform that delivers product knowledge and sales talent development.

In today's digital marketplace—success takes an omnichannel approach. Your retail locations have to stand out. They must provide something above and beyond what's available online…and that something is your associates. With QuizScore, your sales associates are armed with information and skills to impact business now, and leaders have visibility in the field—where and when it counts—to drive top line revenue through bottom line results.
WORKS SEAMLESSLY, WITH AS LITTLE
AS A DIAL-UP CONNECTION
ACCESSIBLE BY FIELD MANAGEMENT
TO COACH AND MENTOR RESULTS
DELIVERS VIDEO
WITHOUT STREAMING
REFLECTS YOUR BRAND AND
BRANDING THROUGHOUT
APP-BASED/
DEVICE AGNOSTIC
REAL-TIME ONLINE REPORTING
ORGANIZED THE WAY YOU DO BUSINESS
Already have a traditional LMS?
You don't have just one pair of shoes, right? At QuizScore, we know certain things have different purposes in business. QuizScore can be your only platform or a complement to enhance your traditional LMS.

See how QuizScore can help you drive performance in-store. Schedule a demo.
At QuizScore, pricing is friendly.
At QuizScore—we don't think you should pay for turnover twice! Our monthly, subscription-based pricing lets you hire new employees to replace old ones without paying again for the full year.

It is based on the number of employees you currently have, not per program. (You can have as many programs as you want for different departments!) Simply put, if you need to supply talent development for 12,500 people, you pay for 12,500 people, no matter the turnover, no matter the number of programs.

Easy, right? Contact us today to get customized pricing.